West Coast Explorer With Alaska Cruise
Rocky Mountaineer Rail & Holland America (15 Days / 14 Nights)
2-day Rocky Mountaineer train trip
7-night Glacier Bay Inside Passage Cruise, Verandah (GoldLeaf) or Ocean-View (SilverLeaf)
2-day fully narrated motorcoach tour
One-way transfer from Lake Louise to Calgary

7 nights hotel accommodation

12 breakfasts, 8 lunches, 7 dinners

Rail station transfers in Kamloops

North Shore tour with Capilano Suspension Bridge and Grouse Mountain

National Parks Pass

Guided lakeshore excursion at Chateau Lake Louise

Rocky Mountain coach & rail information package

Services of a tour director

Complimentary book of the Canadian Rockies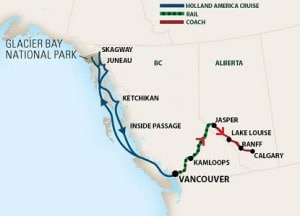 ABOUT THIS TOUR
Combined Alaska cruise; Rocky Mountaineer 2-day rail tour from Vancouver to Jasper; 2-day coach tour from Jasper to Lake Louise; transfer from Lake Louise to Calgary (Canadian Rockies rail and cruise tour including deluxe coach tour)
Service Level: 

GoldLeaf

, 

SilverLeaf

Duration: 15 Days / 14 Nights
Locations: Glacier Bay Inside Passage, Vancouver, Kamloops, Jasper, Banff, Lake Louise. Tour ends in Calgary.
Clientele: All ages, but mostly between 30 to 65 years
Hotels: Depend on which service level you choose
To book this tour a deposit is required; to find out more click on "

Terms & Conditions

"
Please Note: Prices are per person in Canadian dollars
SilverLeaf Accommodation
– Ms. Nieuw Amsterdam: Ocean-View Stateroom
– Vancouver: Hampton Inn Vancouver (or similar)
– Jasper: The Crimson Jasper/Chateau Jasper**
– Banff: Banff Aspen Lodge
– Lake Louise: Mountaineer Lodge
GoldLeaf Accommodation
– Ms. Nieuw Amsterdam: Verandah Stateroom
– Vancouver: Fairmont Hotel Vancouver (or similar)
– Jasper: Crimson Jasper/Chateau Jasper**
– Banff: Fairmont Banff Springs (Fairmont Room)
– Lake Louise: Chateau Lake Louise (Fairmont Lakeview Room)
– Child RATES available upon request
– Prices are per person in Canadian Dollars
– Rates do not include tax or service surcharges, cruise gratuities and port charges
** All accommodation in Kamloops and Jasper is of standard category
TOUR DATES
ITINERARY
RAIL SERVICE
ACTIVITIES
TOUR DATES
Month                                                    

Date
 

| | |
| --- | --- |
| May | 4, 11, 18, 25 |
| June | 1, 8, 15, 22, 29 |
| July | 6, 13, 20, 27 |
| August | 3, 10, 17, 24, 31 |
| September | 7, 14 |

 
ITINERARY
Day 1 (Embarkment)
Begin your journey at the Vancouver cruise terminal where you board your ship. Overnight on Holland America's ms Nieuw Amsterdam. [D]
Day 2 (Cruise the Inside Passage)
Enjoy sailing through the dramatic Inside Passage. Overnight on Holland America's Ms Neiuw Amsterdam. [B] [L] [D]
Day 3 (Port of Call: Juneau Alaska)
Located at the foot of grand mountain peaks on the Gastineau Channel, the town of Juneau has the massive Mendenhall Glacier and the immense Juneau Icefields at its back door. Juneau is the place to let your imagination run wild. Explore the lush Tongass National Forest, visit the rustic shops in town, set out and whale watch, flightsee, hike, kayak, raft or fish. Due to the long daylight hours, there is plenty of time for your perfect Juneau adventure. Overnight on Holland America's Ms Neiuw Amsterdam. [B] [L] [D]
Day 4 (Port of Call: Skagway, Alaska)
Take your time and poke into every little store from the Trail Bench to Lynch & Kennedy's Dry Goods. The Red Onion Saloon, with its honky tonk piano and costumed barmaids, is a treasure trove of memorabilia featuring pictures of Klondike Kate, Peahull Annie and other vintage characters. To complete the picture of those rip-roaring days, visit the nostalgic Trail of '98 Museum. The Klondike Gold Rush National Historical Park boasts restored buildings and wooden boardwalks that invite you to take a stroll into the past. Overnight on Holland America's ms Nieuw Amsterdam. [B] [L] [D]
Day 5 (Glacier Bay Scenic Cruise)
As Biosphere Reserve and UNESCO World Heritage Site, Glacier Bay National Park protects a unique ecosystem of plants and animals living in concert with an ever-changing glacial landscape. Bring out the camera and listen for the thunderous sound of a monumental chunk of ice that has split from a glacier as it crashes into the sea. The impact shoots water hundreds of feet into the air. Glacier Bay has more actively calving tidewater glaciers than any place else in the world. Overnight on Holland America's Neiuw Amsterdam. [B] [L] [D]
Day 6 (Port of Call: Ketchikan, Alaska)
Built out over the water and climbing weathered stairways, Ketchikan clings to the shores of Tongass Narrows and drapes the mountains with a cheerful air. Take time to explore Creek Street, the Tongass Historical Museum, Totem Bight State Park and Saxman Village, Ketchikan's main attractions. Deep water fjords created by retreating glaciers have left behind stunning granite cliffs towering thousands of feet above the sea and countless waterfalls cascading into placid waters. Overnight on Holland America's Neiuw Amsterdam. [B] [L] [D]
Day 7 (At Sea)
Enjoy sailing through the dramatic Inside Passage. Overnight on Holland America's Neiuw Amsterdam. [B] [L] [D]
Day 8 (Disembarkment)
After breakfast you will disembark the Nieuw Amsterdam in Vancouver. The remainder of the day is left for you to explore Vancouver at your leisure. [B]
Day 9 (Sightseeing Tour of North Shore)
Enjoy a six-hour sightseeing tour of Vancouver's spectacular North Shore. Travel across the Lions Gate Bridge and into the Coast Mountains. Experience the Capilano Suspension Bridge and Treetops Adventure, discovering the coastal temperate rainforest and British Columbia's First Nations heritage. Next, visit Grouse Mountain (gondola admission included), the Peak of Vancouver, and take in breathtaking views of the city, ocean, and surrounding mountains. Overnight in Vancouver.
Day 10 (Free Day in Vancouver)
Enjoy a free day in Vancouver to explore on your own. Overnight in Vancouver.
Day 11 (Vancouver to Kamloops – by Rocky Mountaineer Rail)
(Departs: 7:30 am, Arrives: 5:35 pm)*
Travel aboard the Rocky Mountaineer from the coastal city of Vancouver to the interior's largest city, Kamloops. On today's journey, you will see dramatic changes in scenery from the lush green fields of the Fraser River Valley, through forests and winding river canyons surrounded by the peaks of the Coastal Mountains, to the desert- like environment of the interior. Highlights include the rushing waters of Hell's Gate in Fraser Canyon and the steep slopes and snow sheds along the Thompson River. Your day concludes as the Rocky Mountaineer travels along the shores of Kamloops Lake and into your overnight destination, Kamloops. [B] [L]
Day 12 (Kamloops to Jasper – by Rocky Mountaineer Rail)
(Departs: 8:10 am, Arrives: 6:10 pm)*
Your journey continues north and east to the mighty Canadian Rockies and the province of Alberta. Once again you will be surrounded by dramatic scenery as you follow the banks of the North Thompson River through the Monashee and Cariboo Mountains, climbing ever nearer to the high peaks of the Continental Divide. Today's highlights include Mount Robson, the highest peak in the Canadian Rockies at 3,954 metres (12,972 feet), Pyramid Falls, as well as the climb over Yellowhead Pass into Jasper National Park. Your rail journey ends upon arrival in the town of Jasper this evening. Overnight in Jasper. [B] [L]
Day 13 (Jasper to Banff – by Coach)
(Departs: 8:30 am, Arrives: 7:30 pm)*
Start the morning with a refreshing hike in Maligne Canyon, one of the world's largest and deepest limestone gorges criss-crossed by 6 narrow bridges. Then head south on the Icefields Parkway to experience the thundering waters of Athabasca Falls, picturesque Peyto Lake, and majestic Castle Mountain. At the Columbia Icefield, ride the "Ice Explorer"** on Athabasca Glacier or visit the Glacier Skywalk*! Overnight in Banff. [B]
Day 14 (Banff National Park – by Coach)
(Departs: 8:00 am, Arrives: 6:00 pm)*
Enjoy scenic views, including the spectacular Lower Falls, as you walk through Johnston Canyon. At Lake Louise, stroll the shores of the glacier-fed lake and enjoy the atmosphere of the world-famous Chateau Lake Louise. Afternoon highlights include Moraine Lake, the Banff Springs Hotel, the Upper Hot Springs**, and views from the top of Sulphur Mountain**. Overnight in Lake Louise. [B]
Day 15 (Lake Louise to Calgary- Coach Transfer)
(Flexible Departure)*

Motorcoach transfer from Lake Louise to Calgary. Enjoy free time in the heart of downtown Calgary. [B]
Tour Variations for Day 15: Extend your stay in Lake Louise or Banff. Additional accommodation in the Rockies can be arranged at an additional cost. Flexible departure to Calgary.
* Departure and arrival times may vary, subject to rail traffic
** Optional activities
[B] = Breakfast
[L] = Lunch
[D] = Dinner
RAIL SERVICE
GoldLeaf Rail Service

Relax and enjoy unparalleled panoramic views from a custom-designed, two level, glass-domed GoldLeaf coach. For more information about the GoldLeaf Service click HERE.
Silverleaf Rail Car

Take in the awe-inspiring scenery through the windows of a custom-designed, single-level dome coach. For more information about the SilverLeaf Service click HERE.
ACTIVITIES
While you are on the tour, you have the chance to experience the unique beauty of the Rocky Mountains. Although optional, our mountain tour guides recommend following activities to enhance your Canadian Rockies experience:
– Columbia Ice Explorer Tour
– Glacier Skywalk
– Sulphur Mountain (Banff) Gondola Ride
– Canoeing on Lake Louise
– Upper Hot Springs
For more information on above activities (and their costs), click HERE.
WHAT LANGUAGES ARE SPOKEN ON THE TOUR?
Our tours are conducted in English only, by a professional tour director and by professional Rocky Mountaineer attendants.
HOW EARLY SHOULD WE BOOK?
We recommend booking your tour as soon as your plans are confirmed, since departure dates are quite popular and can fill up quickly. Essentially, book early to avoid disappointment!
CAN I ARRANGE INDIVIDUAL PICK-UP FROM MY HOTEL?
The tour will begin at the Cruise Terminal in Vancouver (999 Canada Place). Individual transfers are not included, as most guests simply take a taxi from their hotel to the terminal.
DIFFERENCE BETWEEN SILVERLEAF AND GOLDLEAF ACCOMMODATION?
On the cruise portion, GoldLeaf accommodation means a Verandah Cabin, and SilverLeaf accommodation means an Oceanview Cabin. In the Rockies, SilverLeaf hotels are mountain lodge-style, while GoldLeaf hotels are resort-style. SilverLeaf accommodation is very clean and comfortable, and travellers will get their own private room and washroom. If you prefer GoldLeaf accommodation, be sure to book early as these hotels sell out quickly – availability is limited within 6 months of departure!
ARE GRATUITIES INCLUDED IN THE TOUR PACKAGE COST?
Gratuities are not included in the prices (unless indicated). On the cruise portion, Holland America will charge gratuities separately on your credit card. On the train and coach portion, gratuities will be at your discretion. While it is neither our place nor our wish to tell you how much to tip, gratuities in Canada are often given in recognition of service excellence.
HOW MANY HOURS WILL THE COACH TRAVEL EACH DAY?
This depends on the day. If you are travelling from Vancouver to Jasper or Banff, it will be a minimum of 10 hours. However, every 2-3 hours, you get out of the bus for mini breaks. During the sightseeing days, you will spend little time on the bus as you will be walking/sightseeing/hiking & etc.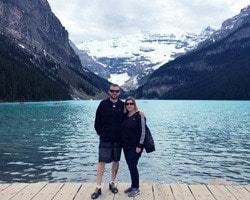 "Excellent tour and saw amazing places and experienced lovely things. It met our needs of visiting the Rockies and was well priced for what it had offered. Well worth the money. Brad was very well spoken and knowledgeable with all the information he provided. He knew his information/history and provided us with all necessary information. Len was very friendly and professional one of the best drivers from a tour company we have experienced."
 Ronald & Amanda Mallia Swansea,  NSW, Australia