Rocky Mountaineer 2-day Train Trip
2-day Rocky Mountaineer train trip
1 night hotel accommodation in Kamloops
2 breakfasts & 2 lunches
Rail transfers in Kamloops 
Services of a Rocky Mountaineer Host
ABOUT THIS TOUR
One-way  Rocky Mountaineer train trip from Vancouver to Banff
Duration: 2 Days / 1 Night
Hotel Locations: Kamloops
GoldLeaf Dome coach and adjacent vestibule is limited to guests reserving this service
To book this tour a deposit is required
Your tour includes 2 main components: Hotel accommodation, and Rocky Mountaineer Rail trip. Tour cost is based on the choice of rail service (GoldLeaf or SilverLeaf), and room occupancy (Single, Double, Triple, or Quad).
Child RATES available upon request
 Prices are per person in Canadian Dollars
 Rates do not include tax or service surcharges
Hotel Accommodation
Kamloops**: Standard hotel accommodation assigned by Rocky Mountaineer
| | |
| --- | --- |
| | |
| | 3, 7, 10, 11, 14, 17, 18, 21, 24, 25, 28, 31 |
| | 1, 4, 7, 11, 14, 18, 21, 25, 28 |
| | 2, 5, 6, 9, 12, 13, 16, 19, 20, 23, 26, 27, 30 |
| | 2, 3, 6, 9, 10, 13, 16, 17, 20, 23 ,24, 27, 30, 31 |
| | 3, 6, 7, 10, 13, 14, 17, 20, 21, 24, 27, 28 |
| | |
Pent-up demand for 2023 Canadian vacations has been extremely high, and we highly recommend booking your seats as early as possible (to secure your preferred date and avoid hotel downgrades). 
Individual pick-ups are not included in the tour, so we recommend taking a taxi to the Rocky Mountaineer train station (1755 Cottrell St).
Gratuities are not included in the prices (unless indicated). While it is neither our place nor our wish to tell you how much to tip, gratuities in Canada are often given in recognition of service excellence.
Day 1 (Banff to Kamloops) (Departs: 8:20 am, Arrives: 7:20 pm)*
Travel onboard the Rocky Mountaineer from the mountain town of Banff to the interior's gateway city of Kamloops. Your journey offers you a spectacular array of scenery as you travel between the high peaks of the Canadian Rockies, over mountain passes and through remarkable tunnels, along rocky lakeshores and across the ranchlands of the interior. Today's highlights include the Continental Divide, the Spiral Tunnels, Kicking Horse Canyon, Rogers Pass, Craigellachie, where the last spike of the Canadian Pacific Railway was driven, and, of course, the glaciers and snow-capped peaks of the Canadian Rockies. Overnight in Kamloops. [B] [L]
Day 2 (Kamloops to Vancouver)
(Departs: 7:30 am, Arrives: 5:35 pm)*
Your journey continues West toward the Pacific Ocean and the coastal city of Vancouver. On today's journey, you will again see dramatic changes in scenery, from the desert-like environment of the interior, through winding river canyons and pristine forests, to the Coast and Cascade Mountains and the lush green fields of the Fraser River Valley. Highlights include the steep slopes and snow sheds along the Thompson River, and the rushing waters of Hell's Gate in Fraser Canyon. Your journey ends on arrival in Vancouver this evening. [B] [L]
* Departure and arrival times may vary subject to rail traffic
[B] = Breakfast
[L] = Lunch
GoldLeaf Rail Service


Relax and enjoy unparalleled panoramic views from a custom-designed, two level, glass-domed GoldLeaf coach. For more information about the GoldLeaf Service click HERE.
Silverleaf Rail Car


Take in the awe-inspiring scenery through the windows of a custom-designed, single-level dome coach. For more information about the SilverLeaf Service click HERE.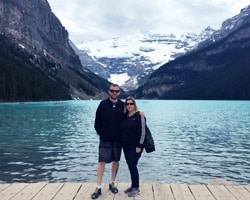 "Excellent tour and saw amazing places and experienced lovely things. It met our needs of visiting the Rockies and was well priced for what it had offered. Well worth the money. Brad was very well spoken and knowledgeable with all the information he provided. He knew his information/history and provided us with all necessary information. Len was very friendly and professional one of the best drivers from a tour company we have experienced."
 Ronald & Amanda Mallia Swansea,  NSW, Australia