Rocky Mountain Train Trips
Three awe-inspiring routes between Vancouver, Jasper, Lake Louise, and Banff - featuring 2-3 days on the Rocky Mountaineer Train!
Rocky Mountaineer pride themselves on offering travelers a luxury sightseeing experience, and have been awarded the "World's Leading Travel Experience by Train" for 8 years in a row. The Rocky Mountaineer train only runs during the day, ensuring that you never miss a moment of the stunning views. You'll then finish the day in comfort at your hotel! In addition, Rocky Mountaineer offers three-day, one-way rail tours from Vancouver to Jasper (via Whistler) and the reverse.
Passengers have two levels of service to choose from (GoldLeaf and SilverLeaf). Each offers incredible views, comfortable reclining seats, breakfast and lunch, and commentary from welcoming and informative Rocky Mountaineer Hosts.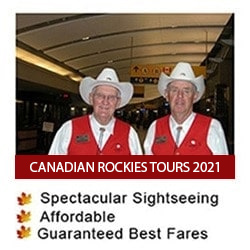 2 Days / 1 Night
One-way Rocky Mountaineer rail tour
Day 1: Vancouver to Kamloops
Day 2:  Kamloops  to Banff
 Fraser Valley, Fraser Canyon, Cascade Mountains, Rogers Pass, Kicking Horse Canyon, Spiral Tunnels
Includes: 2-day Rocky Mountaineer train, 1 night hotel accommodation in Kamloops, 2 breakfasts, 2 lunches and more…
2 Days / 1 Night
One-way Rocky Mountaineer rail tour
Day 1: Banff to  Kamloops
Day 2:  Kamloops  to Vancouver
 Fraser Valley, Fraser Canyon, Cascade Mountains, Rogers Pass, Kicking Horse Canyon, Spiral Tunnels
Includes: 2-day Rocky Mountaineer train, 1 night hotel accommodation in Kamloops, 2 breakfasts, 2 lunches and more…
VANCOUVER TO JASPER TRAIN
2 Days / 1 Night
One-way Rocky Mountaineer rail tour
Day 1: Vancouver to Kamloops
Day 2:  Kamloops  to Jasper
Fraser Canyon,  Albreda Glacier and magnificent Pyramid Falls, majestic Mount Robson
Includes: 2-day Rocky Mountaineer train, 1 night hotel accommodation in Kamloops, 2 breakfasts, 2 lunches and more…
JASPER TO VANCOUVER TRAIN
2 Days / 1 Night
One-way Rocky Mountaineer rail tour
Day 1: Jasper to  Kamloops
Day 2:  Kamloops  to Vancouver
Fraser Canyon,  Albreda Glacier and magnificent Pyramid Falls, majestic Mount Robson
Includes: 2-day Rocky Mountaineer train, 1 night hotel accommodation in Kamloops, 2 breakfasts, 2 lunches and more…
VANCOUVER TO LAKE LOUISE TRAIN
2 Days / 1 Night
One-way Rocky Mountaineer rail tour
Day 1: Vancouver to Kamloops
Day 2:  Kamloops  to Lake Louise
Fraser Valley, Fraser Canyon, Cascade Mountains, Rogers Pass, Kicking Horse Canyon, Spiral Tunnels
Includes: 2-day Rocky Mountaineer train, 1 night hotel accommodation in Kamloops, 2 breakfasts, 2 lunches and more…
LAKE LOUISE TO VANCOUVER TRAIN
2 Days / 1 Night
One-way Rocky Mountaineer rail tour
Day 1: Lake Louise to  Kamloops
Day 2:  Kamloops  to Vancouver
Fraser Valley, Fraser Canyon, Cascade Mountains, Rogers Pass, Kicking Horse Canyon, Spiral Tunnels
Includes: 2-day Rocky Mountaineer train, 1 night hotel accommodation in Kamloops, 2 breakfasts, 2 lunches and more…
VANCOUVER TO JASPER TRAIN (via Whistler)
3 Days / 2 Night
One-way Rocky Mountaineer rail tour
Day 1: Vancouver to Whistler
Day 2:  Whistler to Quesnel


Day 3: 

 Quesnel to Jasper

Fraser Canyon, Seton Lake, Yellowhead Pass, Rocky Mountain Trench
Includes: 3-day Rocky Mountaineer train, 2 nights hotel accommodation in Whistler and Quesnel, 3 breakfasts, 3 lunches and more…
JASPER TO VANCOUVER TRAIN (via Whistler)
3 Days / 2 Night
One-way Rocky Mountaineer rail tour
Day 1: Jasper to Quesnel
Day 2:  Quesnel to Whistler


Day 3: 

 Whistler to Vancouver

Fraser Canyon, Seton Lake, Yellowhead Pass, Rocky Mountain Trench 
Includes: 3-day Rocky Mountaineer train, 2 nights hotel accommodation in Whistler and Quesnel, 3 breakfasts, 3 lunches and more…