Up to $1400 Early Booking Bonus
More savings – Rocky Mountaineer's Direct Booking Bonus if available
"It was the trip of a lifetime, we loved every minute. The staff were very helpful and informative, making the whole experience so enjoyable." Gail & Graham Ottewell, Derby, UK. More From Our Past Guests
Welcome to Key West Travel & Tours, the leading tour operator for the Canadian Rockies and British Columbia since 1999!
We offer a variety of Rocky Mountain tours – to meet both your style of travel and your budget, we provide motorcoach as well as rail & coach options! Our tours combine fully-guided bus tour with a train trip on either the Rocky Mountaineer or VIA Rail, allowing you to experience rail travel and to explore the Canadian Rockies up-close.
Every single tour featured on this website has been created with attention to high quality and affordability. Our Circle West, Western Trails, Grand Circle, and Rocky Mountain Adventure  tours have been crowd favorites for over a decade and we invite you to join us for a rewarding and affordable Rocky Mountain vacation!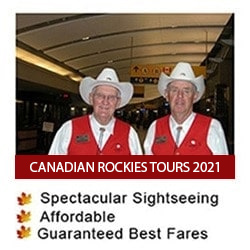 Round-Trip Rocky Mountaineer Rail & Coach Tour from Vancouver
5 Days / 4 Nights
Kamloops, Jasper, Banff, Lake Louise
Independent rail travel & fully guided coach portion
Round-Trip VIA Rail & Coach Tour from Vancouver
5 Days / 4 Nights
Jasper, Banff, Lake Louise
Independent rail travel & fully guided coach portion