With thundering waterfalls, snow capped mountains, vast glaciers, spectacular turquoise lakes, and grazing wildlife, the Canadian Rockies are a region of dramatic wilderness. Join one of our Canadian Rockies tours and explore these amazing sights yourself!
Most of the sightseeing between Jasper, Lake Louise and Banff is conducted by motorcoach, as this provide easy access to majority of the attractions and activities, while Rocky Mountaineer or VIA Train provide an ideal travel experience to or from the Canadian Rockies. 
1. Motorcoach Best Sellers:
Circle West, Western Trails, Western Classic
2. VIA Rail Best Sellers: 
Rocky  Mountain Adventure, West Coast Adventure, Great Canadian Adventure
3. Rocky Mountaineer Best Sellers:
 Grand Circle, Valleys & Peaks, West Coast Explorer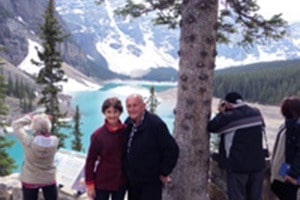 "Now that we know about Key West tours, we would definitely book future holidays with them and recommend them to others. Could not fault the whole tour in the time provided. Thank you so much to Key West tours for the gift of the book, much appreciated. Jeff is a mine of information and a fantastic tour guide. Great personality, went out of his way to help everyone. We have a lot of great memories."– Robert & Gail Timms
Abbotsford, Victoria, Australia
CANADIAN ROCKIES BUS TOURS
Banff, Jasper, Lake Louise (From Vancouver, Calgary or Edmonton)
Hop aboard for a spectacular motor coach tour from Vancouver or Calgary, featuring the best that the Canadian Rockies have to offer. Sit back in the comfort of our deluxe coaches and listen to wonderful stories about nature, history and culture as our knowledgeable tour guides bring these regions to life.
ROCKY MOUNTAINEER RAIL & MOTORCOACH TOURS
Banff, Jasper, Lake Louise (From Vancouver, Calgary Or Edmonton)

The luxurious Rockies rail experience that has become world-famous!  Enjoy wonderful scenic views from the comfort of GoldLeaf or SilverLeaf Service, where a glass dome roof or the extended panoramic windows offer fantastic photo opportunities. 
We have combined our deluxe motor coach tours from Vancouver & Calgary with the Rocky Mountaineer train to bring you the best of both worlds!
ROCKY MOUNTAINEER 2-DAY TRAIN TRIPS
Banff, Jasper, Lake Louise (From Vancouver, Jasper, Banff or Lake Louise)

Rocky Mountaineer train trips between Vancouver, Jasper and Banff or Lake Louise are renowned worldwide for stunning scenery and unparalleled hospitality.
Key West Travel reservation agents have extensive knowledge about Canadian Rockies rail tours, helping you match these wonderful routes with your itinerary, and creating a memorable vacation experience!
VIA RAIL & MOTORCOACH TOURS
Banff, Jasper, Lake Louise (From Vancouver or Toronto)
Affordability, comfort and scenery are hallmarks of VIA Rail, whose The Canadian is one of the most renowned long-distance train journeys in the world. A truly unique way to experience the diverse Canadian landscape, and a trip for the whole family!
Our packages combine a rail journey operated by VIA Rail with our popular coach tours. These packages allow our guests to experience classic Canadian train travel, as well as explore the Rockies in-depth with our experienced tour guides.