Canadian Rockies Bus Tours
Our popular Rocky Mountain bus tours allow you to experience the Canadian Rockies up-close! Start your tour from Vancouver, Calgary, Jasper or Edmonton
Thousands of visitors from around the globe have experienced and enjoyed these bus tours, which offer unforgettable journeys at affordable prices. Because we stay in the heart of Jasper, Banff, and Lake Louise, you are able to maximize your time in these vibrant towns, and get a true Canadian Rocky Mountain experience!
Among the most popular attractions are Maligne Canyon, Athabasca Falls, Columbia Icefields, Peyto Lake, Bow Lake, Lake Louise, Moraine Lake, Johnston Canyon, Sunwapta Falls. *Note: You can join our tours from Vancouver, Calgary or Edmonton!
For The Curious Traveler With Essential Questions...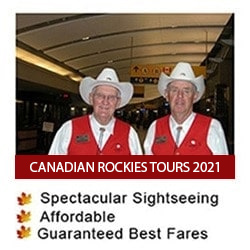 4 Days / 3 Nights
Round-Trip Coach Tour from Vancouver
Jasper, Banff, Lake Louise
Includes: 4-day guided tour, hotel accommodation, Breakfast, Park Pass, Toll Fee, and Canadian Rockies gift book
 4 Days / 3 Nights
One-way Coach Tour from Vancouver to Calgary
Jasper, Banff, Lake Louise
Includes: 4-day guided tour, hotel accommodation, Breakfast, Park Pass, Toll Fee, and Canadian Rockies gift book
4 Days / 3 Nights
One-way Coach Tour from Calgary to Vancouver 
Jasper, Banff, Lake Louise
Includes: 3-day guided tour, hotel accommodation, Breakfast, Park Pass, Toll Fee, and Canadian Rockies gift book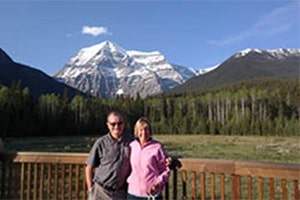 John & Barbara Wood
Lane Cove, NSW, Australia
"Brad and Simon (our driver) looked after us very well, brad anticipated everything we needed to know. They were both very patient and dealt with everyone very well. It was lovely to travel so far with no stress and everything being planned for us. Thank you for a great 4 days!"
5 Days / 4 Nights
Round-Trip Coach Tour from Vancouver
Jasper, Banff, Lake Louise, Kelowna
Includes: 5-day guided tour, hotel accommodation, Breakfast, Park Pass, Toll Fee, and Canadian Rockies gift book
5 Days / 4 Nights
One-way Coach Tour from Calgary to Vancouver 
Jasper, Banff, Lake Louise, Kelowna
Includes: 4-day guided tour, hotel accommodation, Breakfast, Park Pass, Toll Fee, and Canadian Rockies gift book