limited-time offer! Up to $800 direct Booking Bonus...
Rocky Mountaineer Rail Vacations
These Rocky Mountain Rail trips offer three spectacular scenic rail routes through the Canadian Rockies and British Columbia. Excellent onboard service and the comfort of Rocky Mountaineer GoldLeaf or SilverLeaf Rail Service provide the ideal setting to take in the stunning views of passing mountain peaks, canyons and lakes. These rail trips are unique as they include our award-winning motorcoach tours to get you up-close and personal with some of the most photographed sights in the Canadian Rockies.
"Enjoyed our tour. Would highly recommend Key West to others, we are very satisfied. Great staff and support, a well organised company." Frank & Robyn Gallego  (Belmont North, Australia)
.
More From Our Past Guests
PRICE (Double, per person)
SilverLeaf: $4,119 – $5,019 / GoldLeaf: $4,999 – $5,899
Vancouver → Jasper → Banff → Lake Louise → Vancouver
 2-day Rocky Mountaineer train trip from Vancouver to Jasper
3-day motorcoach tour
4 nights of hotel accommodation,
5 breakfasts, 2 lunches
Ice Explorer tour**, Gondola ride**
Park Pass & Toll-free
Optional hiking in Maligne & Johnston Canyon
PRICE (Double, per person)
SilverLeaf: $4,639 – $6,109 / GoldLeaf: $5,439 – $6,909
Vancouver → Jasper → Banff → Lake Louise → Vancouver
 2-day Rocky Mountaineer train trip from Lake Louise to Vancouver
3-day motorcoach tour plus an independent day in Lake Louise
5 nights of hotel accommodation,
5 breakfasts, 2 lunches
Ice Explorer tour**, Gondola ride**
Park Pass & Toll-free
Optional hiking in Maligne & Johnston Canyon
PRICE (Double, per person)
SilverLeaf: $4,219 – $5,119 / GoldLeaf: $5,099 – $5,999
Vancouver → Jasper → Banff → Lake Louise → Calgary
 2-day Rocky Mountaineer train trip from Vancouver to Jasper
3-day motorcoach tour
4 nights of hotel accommodation,
5 breakfasts, 2 lunches
Ice Explorer tour**, Gondola ride**
Park Pass & Toll-free
Optional hiking in Maligne & Johnston Canyon

PRICE (Double, per person)
SilverLeaf: $4,839 – $6,309 / GoldLeaf: $5,639 – $7,109
Calgary → Jasper → Lake Louise → Banff → Vancouver
 2-day Rocky Mountaineer train trip from Lake Louise to Vancouver
3-day motorcoach tour plus an independent day in Lake Louise
5 nights of hotel accommodation,
5 breakfasts, 2 lunches
Ice Explorer tour**, Gondola ride**
Park Pass & Toll-free
Optional hiking in Maligne & Johnston Canyon
PRICE (Double, per person)
SilverLeaf: $7,269 – $8,449 / GoldLeaf: $9,029 – $10,209
Vancouver → Jasper → Banff → Lake Louise → Vancouver
 4-day Rocky Mountaineer train trip from Vancouver to Jasper and Lake Louise to Vancouver
3-day motorcoach tour plus an independent day in Lake Louise
6 nights of hotel accommodation,
7 breakfasts, 4 lunches
Ice Explorer tour**, Gondola ride**
Park Pass & Toll-free
Optional hiking in the Maligne & Johnston Canyon
Stunning scenery and fantastic tour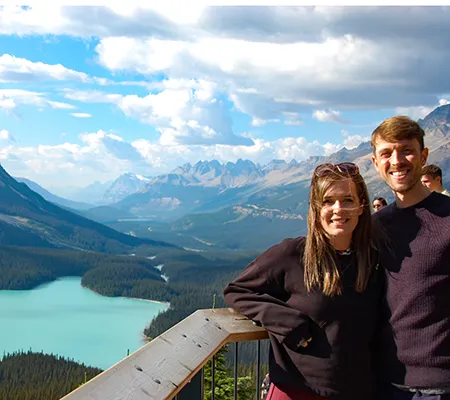 Such an enjoyable 4-day tour. I was actually really quite sad when it ended! The other people on the bus were all lovely too which made the tour even better. Brad our guide was absolutely exceptional. He always put our best interests first and was so knowledgeable. Our driver Kye was fab too and did
…
Such an enjoyable 4-day tour. I was actually really quite sad when it ended! The other people on the bus were all lovely too which made the tour even better. Brad our guide was absolutely exceptional. He always put our best interests first and was so knowledgeable. Our driver Kye was fab too and did such a great job driving us. The hotels were brilliant and we were able to see so much in a short time. We were probably one of the youngest on the tour and it was nice to have a mixture of ages – everyone were very civilized which is what we wanted. Would recommend this company to everyone
Benjamin & Jennifer, Guilford, Surrey, UK