Save up to $1700 on select tours
November 10th – December 4th
November 10 – Dec 4
 Don't miss out on this incredible opportunity… Call us now to learn more!
AU: 1-800-449-180
UK: 08-08-101-4562
 NZ: 0800-459-240
CANADA & US: 1-888-632-3757
1-604-632-3757
Email: res@keywesttours.ca
Up To $1,700 CAD Per Couple
Rocky Mountaineer Select Tours (most popular rail trips)
Up To $1,700 CAD Per Couple
Key West Travel Exclusive Rocky Mountaineer Rail Trips
Up To $700 CAD Per Couple
Exclusive Direct Booking Bonus for 2-day Rocky Mountaineer Rail Tours.
Promotions are applicable exclusively for direct bookings
These offers are subject to change without prior notice
Valid only for new bookings
Our unwavering commitment to Our clients
Through the last two years of the COVID pandemic, we have maintained 100% client satisfaction regarding changes in travel plans, cancellations, and refunds.
We pride ourselves on offering exceptional services through our streamlined booking process which is tailored to the needs of our customers.
Over the last 20 years, we have served more than 50,000 clients from Australia, UK, USA, New Zealand, India, Canada, and many other countries from far and wide. We look forward to serving you in the coming season!
Stunning scenery and fantastic tour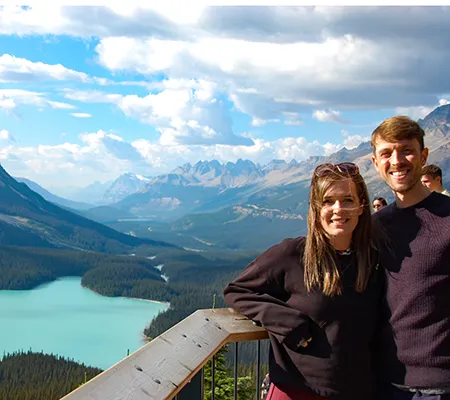 Such an enjoyable 4-day tour. I was actually really quite sad when it ended! The other people on the bus were all lovely too which made the tour even better. Brad our guide was absolutely exceptional. He always put our best interests first and was so knowledgeable. Our driver Kye was fab too and did
…
Such an enjoyable 4-day tour. I was actually really quite sad when it ended! The other people on the bus were all lovely too which made the tour even better. Brad our guide was absolutely exceptional. He always put our best interests first and was so knowledgeable. Our driver Kye was fab too and did such a great job driving us. The hotels were brilliant and we were able to see so much in a short time. We were probably one of the youngest on the tour and it was nice to have a mixture of ages – everyone were very civilized which is what we wanted. Would recommend this company to everyone
Benjamin & Jennifer, Guilford, Surrey, UK