Rocky Mountaineer 2-day Train Trip
Book Early And Save Up to $400 Per Couple
Rocky Mountaineer: 2-day train trip from Vancouver to Jasper
Hotel: 1 night in Kamloops
Meals: 2 breakfasts, 2 lunch
Rail Transfers: Vancouver, Kamloops, Jasper
Luggage Handling: Kamloops 
| OCCUPANCY | DOUBLE | SINGLE | TRIPLE | QUAD |
| --- | --- | --- | --- | --- |
| May – Sep | $2,380 | $2,458 | $2,364 | $2,364 |
| Oct | $1,984 | $2,050 | $1,972 | $1,972 |
| OCCUPANCY | DOUBLE | SINGLE | TRIPLE | QUAD |
| --- | --- | --- | --- | --- |
| May – Sep | $3,250 | $3,328 | $3,234 | $3,234 |
| Oct | $2,684 | $2,750 | $2,672 | $2,672 |
| 2023 | Departure Dates |
| --- | --- |
| April | 18, 21, 25, 28 |
| May | 2, 5, 9, 12, 16, 19, 23, 26, 30 |
| June | 2, 6, 9, 13, 16, 20, 23, 27, 30 |
| July | 4, 7, 11, 14, 18, 21, 25, 28 |
| August | 1, 4, 8, 11, 15, 18, 22, 25, 29 |
| September | 1, 5, 8, 12, 15, 19, 22, 26, 29 |
| October | 3, 6, 10, 13 |
*All Prices are in Canadian Dollars
| OCCUPANCY | DOUBLE | SINGLE | TRIPLE | QUAD |
| --- | --- | --- | --- | --- |
| May – July | $2,419 | $2,503 | $2,401 | $2,401 |
| Aug – Sep | $2,499 | $2,583 | $2,481 | $2,481 |
| Oct | $2,049 | $2,117 | $2,037 | $2,037 |
| OCCUPANCY | DOUBLE | SINGLE | TRIPLE | QUAD |
| --- | --- | --- | --- | --- |
| May – Jul | $3,299 | $3,383 | $3,234 | $3,234 |
| Aug – Sep | $3,409 | $3,493 | $3,391 | $3,391 |
| Oct | $2,769 | $2,837 | $2,757 | $2,757 |
| 2024 | Departure Dates |
| --- | --- |
| April | 16, 19, 23, 26, 30 |
| May | 3, 7, 10, 14, 17, 21, 24, 28, 31 |
| June | 4, 7, 11, 14, 18, 21, 25, 28 |
| July | 2, 5, 9, 12, 16, 19, 23, 26, 30 |
| August | 2, 6, 9, 13, 16, 20, 23, 27, 30 |
| September | 3, 6, 13, 17, 20, 24, 27 |
| October | 1, 4, 8, 11 |
*All Prices are in Canadian Dollars
Day 1: Vancouver to Kamloops
Departs: 7:30 am, Arrives: 5:35 pm
Travel aboard the Rocky Mountaineer from the coastal city of Vancouver to the interior's largest city, Kamloops. On today's journey, you will see dramatic changes in scenery from the lush green fields of the Fraser River Valley, through forests and winding river canyons surrounded by the peaks of the Coastal Mountains, to the desert- like environment of the interior. Highlights include the rushing waters of Hell's Gate in Fraser Canyon and the steep slopes and snow sheds along the Thompson River. Your day concludes as the Rocky Mountaineer travels along the shores of Kamloops Lake and into your overnight destination, Kamloops. [B] [L]
Day 2: Kamloops to Jasper
Departs: 7:30 am, Arrives: 6:10 pm
Your journey continues North and East to the mighty Canadian Rockies and the province of Alberta. Once again, you will be surrounded by dramatic scenery as you follow the banks of the North Thompson River through the Monashee and Cariboo
Mountains, climbing ever nearer to the high peaks of the Continental Divide. Today's highlights include Mount Robson, the highest peak in the Canadian Rockies at 3,954 metres (12,972 feet), Pyramid Falls, as well as the climb over the Yellowhead Pass into Jasper National Park. Your rail journey ends on arrival in the resort town of Jasper this evening. [B] [L]
* Tour times may vary, subject to rail trafic
[B] = Breakfast
[L] = Lunch
Relax and enjoy unparalleled panoramic views from a custom-designed, two level, glass-domed GoldLeaf coach. Included is an outdoor viewing area and premium dining options prepared by on-board chefs.
Take in the awe-inspiring scenery through the windows of a custom-designed, single-level dome coach. Dinner will be served at your seat and complimentary snacks and beverages will be provided to you throughout the journey.
Pent-up demand for 2023 Canadian vacations has been extremely high, and we highly recommend booking your seats as early as possible (to secure your preferred date and avoid hotel downgrades). 
Individual pick-ups are not included in the tour, so we recommend taking a taxi to the Rocky Mountaineer train station (1755 Cottrell St).
Gratuities are not included in the prices (unless indicated). While it is neither our place nor our wish to tell you how much to tip, gratuities in Canada are often given in recognition of service excellence.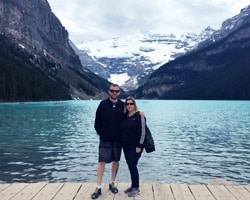 "Excellent tour and saw amazing places and experienced lovely things. It met our needs of visiting the Rockies and was well priced for what it had offered. Well worth the money. Brad was very well spoken and knowledgeable with all the information he provided. He knew his information/history and provided us with all necessary information. Len was very friendly and professional one of the best drivers from a tour company we have experienced."
 Ronald & Amanda Mallia Swansea,  NSW, Australia