unique perspectives and unforgettable moments...
Rocky Mountain Coach Tours
Nestled in one of world's largest swath of mountain peaks, the Canadian Rockies exhibit a rare natural wilderness that offers a last refuge for old-growth forests and whole mountain ecosystems. Join one of our award-winning Canadian Rockies guided bus tours to explore easy and accessible trail walks to fabulous viewpoints. Wander around glacier-fed turquoise lakes set against a backdrop of massive glaciers and spiralling mountain peaks, and watch bighorn sheep and elk grazing contentedly as they drift across wild valleys.
Vancouver → Jasper → Banff → Lake Louise → Vancouver
Day 1-4: Guided coach tour, including Banff, Jasper, & Lake Louise
3 nights of hotel accommodation: 2 nights in Banff, 1 night in Jasper
3 buffet breakfast
Park Pass & Toll-fee
Services of a mountain tour director
Excursions to Maligne & Johnston Canyons
Optional Activities: Ice Explorer tour, Banff Gondola ride
Beautiful booklet of the Canadian Rockies
Vancouver → Jasper → Banff → Lake Louise → Calgary
Day 1-3: Guided coach tour, including Banff, Jasper, & Lake Louise
Day 4: Scenic coach journey from Banff to Calgary
3 nights of hotel accommodation: 2 nights in Banff, 1 night in Jasper
3 buffet breakfast
Park Pass & Toll-fee
Services of a mountain tour director
Excursions to Maligne & Johnston Canyons
Optional Activities: Ice Explorer tour, Banff Gondola ride
Beautiful booklet of the Canadian Rockies
Calgary → Jasper → Banff → Lake Louise → Vancouver
Day 1: Scenic coach journey from Calgary to Jasper
Day 2-4: Guided coach tour, including Banff, Jasper, & Lake Louise
3 nights of hotel accommodation: 2 nights in Banff, 1 night in Jasper
3 buffet breakfast
Park Pass & Toll-fee
Services of a mountain tour director
Excursions to Maligne & Johnston Canyons
Optional Activities: Ice Explorer tour, Banff Gondola ride
Beautiful booklet of the Canadian Rockies
Vancouver → Jasper → Banff → Lake Louise → Kelowna → Vancouver
Day 1: Scenic coach journey from Calgary to Jasper
Day 2-5: Guided coach tour, including Banff, Jasper,, Lake Louise & Kelowna
4 nights of hotel accommodation: 2 nights in Banff, 1 night in Jasper, 1 night in Kelowna
4 buffet breakfast
Park Pass & Toll-fee
Services of a mountain tour director
Excursions to Maligne & Johnston Canyons, a Winery tour
Optional Activities: Ice Explorer tour, Banff Gondola ride
Beautiful booklet of the Canadian Rockies
Vancouver → Jasper → Banff → Lake Louise → Kelowna → Vancouver
Day 1-5: Guided coach tour, including Banff, Jasper, Lake Louise &  Wine Country
4 nights of hotel accommodation: 2 nights in Banff, 1 night in Jasper, 1 night in Kelowna
4 buffet breakfast
Park Pass & Toll-fee
Services of a mountain tour director
Excursions to Maligne & Johnston Canyons, a Winery tour
Optional Activities: Ice Explorer tour, Banff Gondola ride
Beautiful booklet of the Canadian Rockies
Stunning scenery and fantastic tour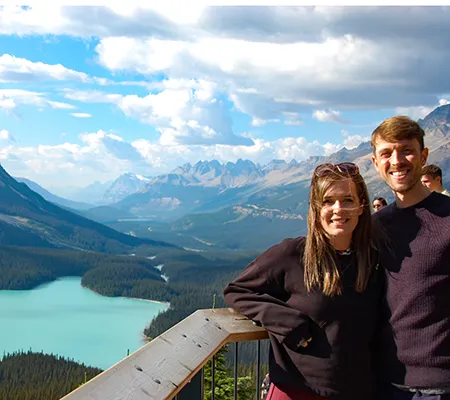 Such an enjoyable 4-day tour. I was actually really quite sad when it ended! The other people on the bus were all lovely too which made the tour even better. Brad our guide was absolutely exceptional. He always put our best interests first and was so knowledgeable. Our driver Kye was fab too and did
…
Such an enjoyable 4-day tour. I was actually really quite sad when it ended! The other people on the bus were all lovely too which made the tour even better. Brad our guide was absolutely exceptional. He always put our best interests first and was so knowledgeable. Our driver Kye was fab too and did such a great job driving us. The hotels were brilliant and we were able to see so much in a short time. We were probably one of the youngest on the tour and it was nice to have a mixture of ages – everyone were very civilized which is what we wanted. Would recommend this company to everyone
Benjamin & Jennifer, Guilford, Surrey, UK